Anything that's part of the Ontoverse compendium--generally (but not necessarily) meaning most of the things written by Vestiphile.
A few things Vestiphile writes do not take place in the Ontoverse, while some Ontoverse-canon things are written by other authors.
The point is that ALL THESE STORIES take place within the same Multiverse.
There it is.
by Vestiphile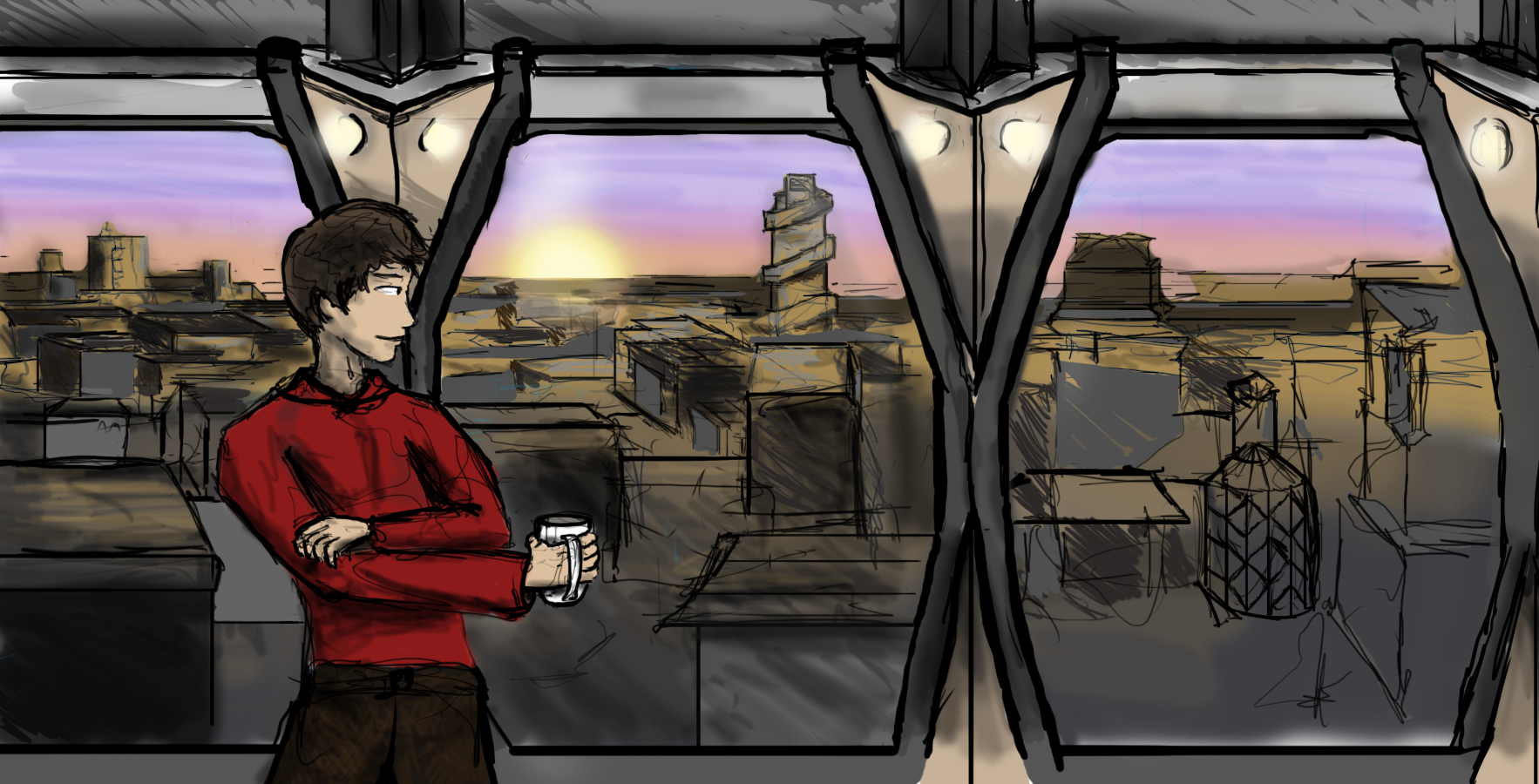 Some people smuggle contraband over international borders...Kalin Adriksehn takes that to another magnitude.
A 'candy salesman' with a mysterious past, Kalin works with a small house of interdimensional diplomats and dealbrokers with connections to state organizations, multidimensional corporations, and VIPs from all over the local node.
So when the gorgeous and supernaturally-endowed ruler of a known hedonism haven asks Kalin to sneak one of her agents into a diplomatically-sensitive secured area, will he risk his career and cover in exchange for her promises of tactile riches and immense pleasure?
Jump the tear and dive into a strange interdimensional future-noir of danger, sex, underground trade and good old deception with a smart-ass augmented human who can't keep himself out of trouble.
Oh yeah--and like, trust no one. Or something.
by Vestiphile
w/ assist from McK
Situated in posh Midtown Manhattan, the timeless architecture of Sorgina Tower is home to a world-class PR firm, a fabulous department store, some of the hottest restaurants in the city, exclusive residential spaces that money alone can't buy...and--unbeknownst to most of the world--some of the most bewitching magic users in the world. When Eva takes a new job at Uncanny Advertising, doors open to a new career, a new lifestyle, new friends, and a new world beyond belief.
by Vestiphile
w/ assists from Darkside007 & McK
When Tiffany finds an irresistible pair of boots stashed away in her client's walk-in closet, she unleashes a supernatural entity of immense power. After a confrontation reveals that Tiffany's discovery of the boots was more than accidental, the entity slips away, biding its time and massing its power elsewhere. Can she piece together the mystery before the growing force fulfills its plan, or has her curiosity put the world in the hands of a power-hungry hedonistic entity?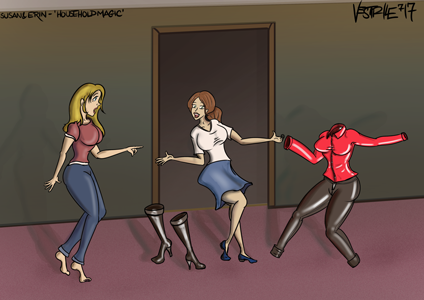 by Vestiphile
When Susan discovers an old tome in an antique dresser, the sensible side of her laughs it off. When a string of coincidences makes her wonder if the simple spells she uttered were real, she tries more advanced magic. After her teenage daughter Erin discovers the strange things happening in the house, Susan tries to hide the truth about the magic even as she gets in way over her head. Before long, the whole household is caught up in renegade magic, and Erin will have to study like a sorceress to save Susan from herself.
by Vestiphile & McK
When you know one of the most powerful sorceress' in the world, and you happen to live in the same building, you're bound to see and experience the impossible. A demigoddess named Jennifer shows her friends a good time and makes more wherever she goes.
Initial Concept from Yahoo Groups
Chapters 2-8 by Vestiphile & McK

[AKA: 'Boots of the Dark Mistress']
For those of you who don't know the old adult.collapsingfiction.com lore, "Dark Mistress" was inspired by something that came a few years earlier. In the old Yahoo groups, a bunch of us passed a thread back and forth--each of us tacking on our fetishes and our own fantastical story twists, and it became this.
If the latter chapters seem more consistent than the earlier ones, it's because over time this 5-author document became a 2-author document. Armed with our notes about what we wanted to see--regardless of how off-the-rails...we pretty much went there. 
A couple years later, I found Darkside--who told me I wasn't allowed to indulge my fetishes and wander around half-cocked with my characters if I actually wanted to write a meaningful story.
I mean...the fucker's right, but nyyyyyyyyeh.
This draft spirals to a much different breaking point than the revision. Is it a shame it never went any further? Perhaps. But there WAS always an alternate chapter 10 I wanted to write for the Revised Dark Mistress that ends a little differently.
This is a little rough, and it starts a bit silly, but I've had enough people ask about it that I'm pleased to share it again here.
by Vestiphile
inspired by a short by Vestiphile & McK
When twin sisters living in a upper-middle-class suburb get an anonymous birthday card from someone claiming to be their long-lost mother, their entire world changes around them. Destined by birthright to become powerful sorceresses, they set out to unravel their familial mystery as their new abilities lead them on a collision course with the rest of the magical world.
Serials
Article Count: 0
Multi-chapter stories and series.
Archives
Article Count: 0
Old versions of stories, missing sections, abandoned drafts.
Shorts
Article Count: 0
Short fiction, one-act stories and the like.
reposted with permission from author Steven E. Wedel
There's a secret about the clothes we wear, known only to dry-cleaner/launderer Walt Higgins. When that secret reveals something sinister happening in the town, Walt takes action against it.
(V's Note: Doe and I have talked about this one for ages--some of us remember it from Y!Groups reposts long before MM or even A.CF existed, before I was doing any writing or illustration of my own. When I was gathering all our old author materials for the site redesign and regathering permissions for works that aren't mine, I found this short in my 'horror' stash, listed under "author unknown". With a little searching, I was able to find Steven's name in a literary compendium called Great Beginnings where Steven's opening line for A Change of Clothes was cited as a fantastic example of an opener that leaps right onto the back of a moving story. I was able to email Steven and ask his permission to repost this great short here, and he graciously approved. Visit his Amazon page for more of his work!)
by Darkside007
A collection of shorts where wardrobe choices are a little more physically compelling and/or permanent than usual. (F, Body control)
The Cheerleader Outfit
Rachel checks out a new shop at an outdoor mall and finds a costume she can't seem to resist. After trying it on, she finds herself overpowered by actions that aren't her own.
The Magic Panties
After Sarah finds a web page claiming to have real magic spells, she tries--half-intoxicated--to use a "simple desires" spell on a pair of her underwear.
The Mary Janes
"Change your shoes, change your life" takes on a whole new meaning.
The Red Shoes
Katie is given a pair of new shoes that come with special features.
The Robot Costume
The costume came in the mail, glistening and even better-fitting than she expected. She didn't realize that it came with it's own program.
by JayHawk303
A man finds much more than he bargained for after his car breaks down in New England and he is taken in for the night by the caretaker of a lighthouse. What he hears from the caretaker is a story of sex, murder, and a haunted lighthouse, and later that night, can't resist investigating despite being told to stay away. 
LC shorts and CHYOA candidates by Vestiphile
by Edroe
A red-headed beauty with a penchant for tickling domination has the house all to herself after her recent divorce. Enjoy single life at first, Marie begins to get suspicious when strange things start happening. Soon a mysterious force seems to be causing the impossible, and before long, Marie finds herself the target of the same kind of delicious torture she used to dole out. The only difference is that this time, it's not another person doing the dominating...
by Calx86
A young widow moves to a beautiful gem of a home in Washington state. Its former owner has left a mirror that's more than just an imposing antique, and as Vanessa spends more time in the house, she learns the mysteries of its hauntingly spectral sexual effects.
by IrishRogue
Sylvia's new winter clothes keep her nice and warm in ways she couldn't begin to imagine.